Top Marriage Halls In Bangalore To Make Your Wedding A Hit!
Are you looking for classy yet affordable marriage halls in Bangalore? Then you are in the right place because we are going to make your task easy by finding the right marriage halls for you in Bangalore. Apart from being the business hub of India this city also got some fantastic venues for wedding celebrations. BigFday will make your event a win-win starting from choosing the right venue.
With around 600 wedding venues in Bangalore, ranging from the capacity of 50 to 10000, it gets challenging to choose that perfect one.
You can filter the wedding venue according to your needs. These filter can be:
Size
Facilities
Budget
Popularity
We have got you a list of top 10 wedding halls in Bangalore you should consider in 2019.
Let's find out some elegant and delightful marriage halls in the Garden city of India, Bangalore.
CMA Grand Convention and Wedding Hall
CMA Grand Convention and Wedding Hall is located at J.C Nagar in Bangalore. The mandap is adorned beautifully with attention paid to even tiniest details. This place is best suited to host a reception, pre-wedding events, and other intimate functions. Also, this venue is spacious and has all the amenities that your guests would require. CMA Grand Convention is aesthetically beautiful to make your big day memorable. Also, they provide with luxurious rooms for guests and with greenery all around the venue it adds on to the grandeur to the place.
The best add on to this wedding hall is it well-furnished with power backup and car parking facility.
Location: Bazar Street
Capacity: Up to 2000
Address: 19th Bazar Street, Arabic College Main Road, Opp. to Lababin Masjid, Bengaluru Karnataka 560045.
Pai Vista Convention Hall, KR Road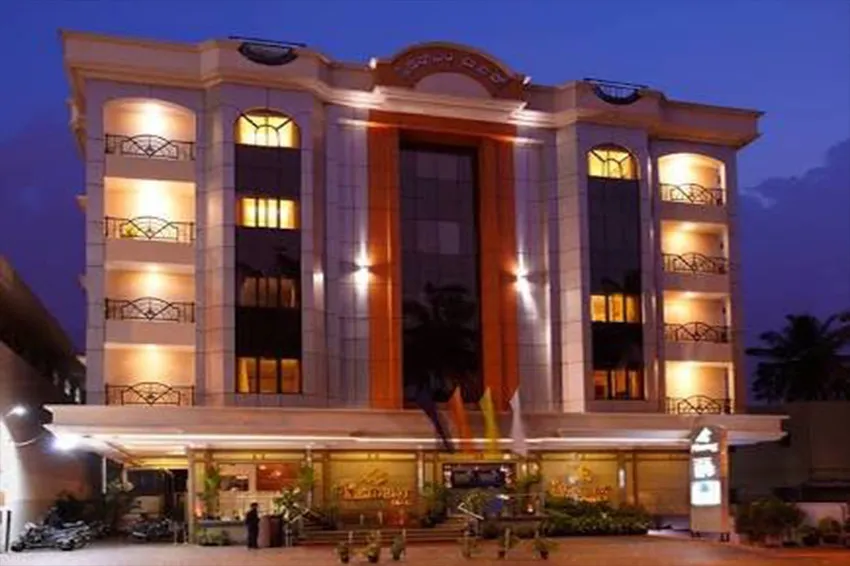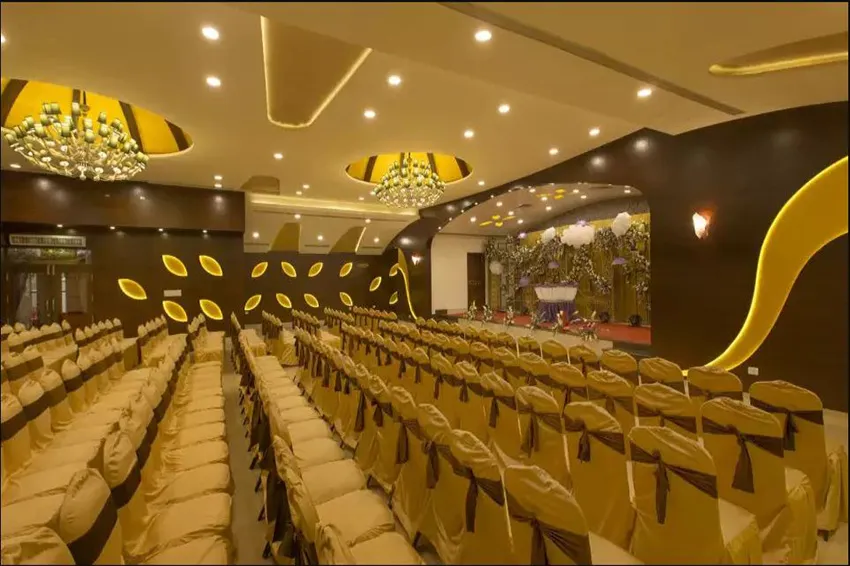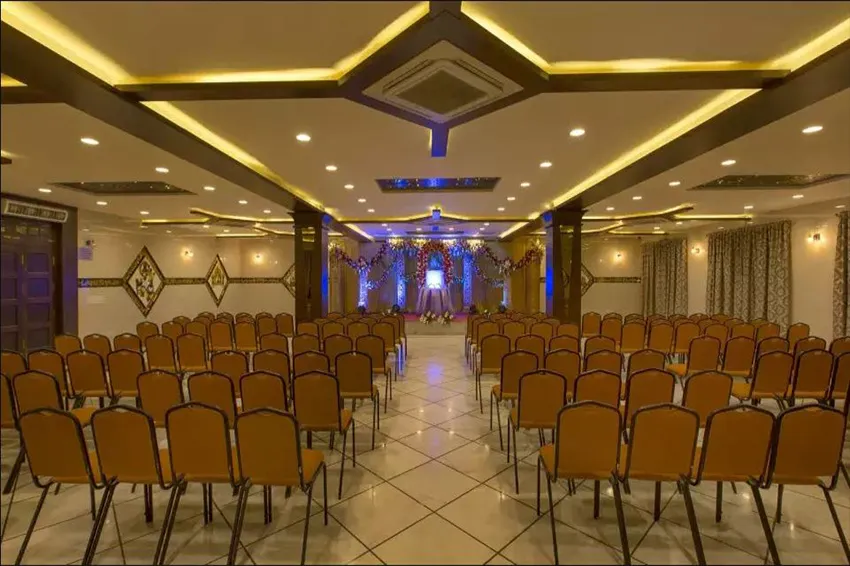 The wedding hall makes any event grand and unique with enhanced lighting and adorned chandeliers. You won't regret choosing this place as it has all the top-class amenities to make your special day even more special.

This place offers an excellent buffet and cocktail with traditional plantain leaf service. They also have an elevator, audio-visual equipment and professional staff for offering services.
Pai Vista offers both customized standard and services in vegetarian food and decor. So you can choose according to your preference.
Location: KR Road
Capacity: Maximum 500
Address: Pai Vista Convention Hall, KR Road, Opp to Sevakshetra Hospital
Near Monotype, Banashankari 2nd Stage, Bangalore- 560070, Karnataka- 560045. 
Anasuya Chandrappa Convention Hall, Bangalore
Anasuya Chandrappa Convention Hall, Bangalore is an excellent venue to host your reception and wedding ceremony. This banquet is well-known for the fantastic services they provide and the sumptuous decor. Anasuya Chandrappa Convention Hall gives you the freedom to get your decorator and caterer from outside as per your requirements. 
The place is suitable to host medium-sized post-wedding and pre-wedding celebrations. The venue has a great ambiance, which makes the wedding even more memorable.
Location: Vidyaranyapura 
Capacity: Approx 750
Address: Anasuya Chandrappa Convention Hall #1, Dr. Chandrappa Layout, Bharath Nagara, Hesarghatta Road, Vidyaranyapura Post, Bengaluru, Karnataka 560097
Nagadevaki Palace, Bangalore
Nagadevaki Palace is one of the largest in Rajajinagar and is one of the most sought after wedding halls in Bangalore. It has an elegant and superior banqueting space, which is ideal for large wedding functions. This venue makes every function a rousing success with its endeavors. It is loaded with high-class amenities and famous for its hospitality. The customized food makes sure the guests enjoy delicious cuisines. The best thing to love about this place is that it is so huge that you can even plan a themed wedding here or make any type of elaborated decoration of your choice. 
Location: Rajajinagar
Capacity: Around 1200
Address: No.22/25, 1st Main Road, Woc Road, Rajajinagar, Bangalore – 560010, Opposite To Industrial Estate, Karnataka. 
Empire Yolee Grande Convention Centre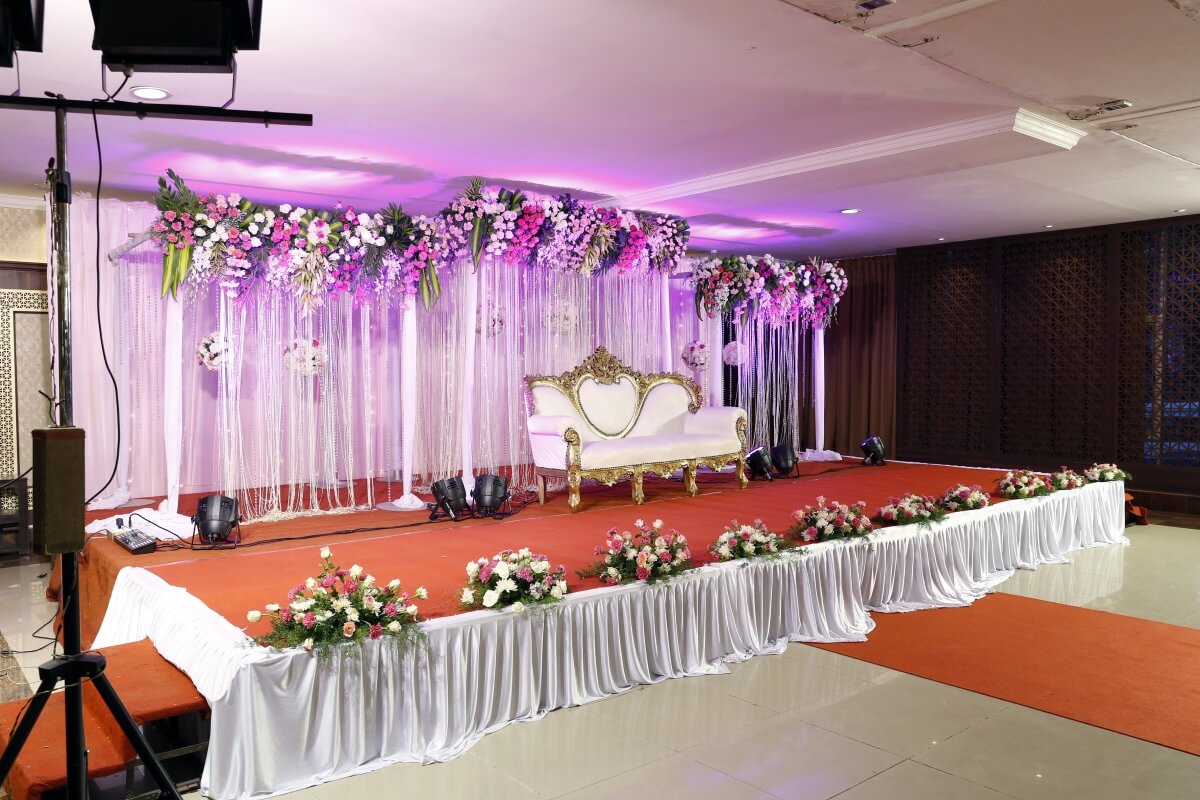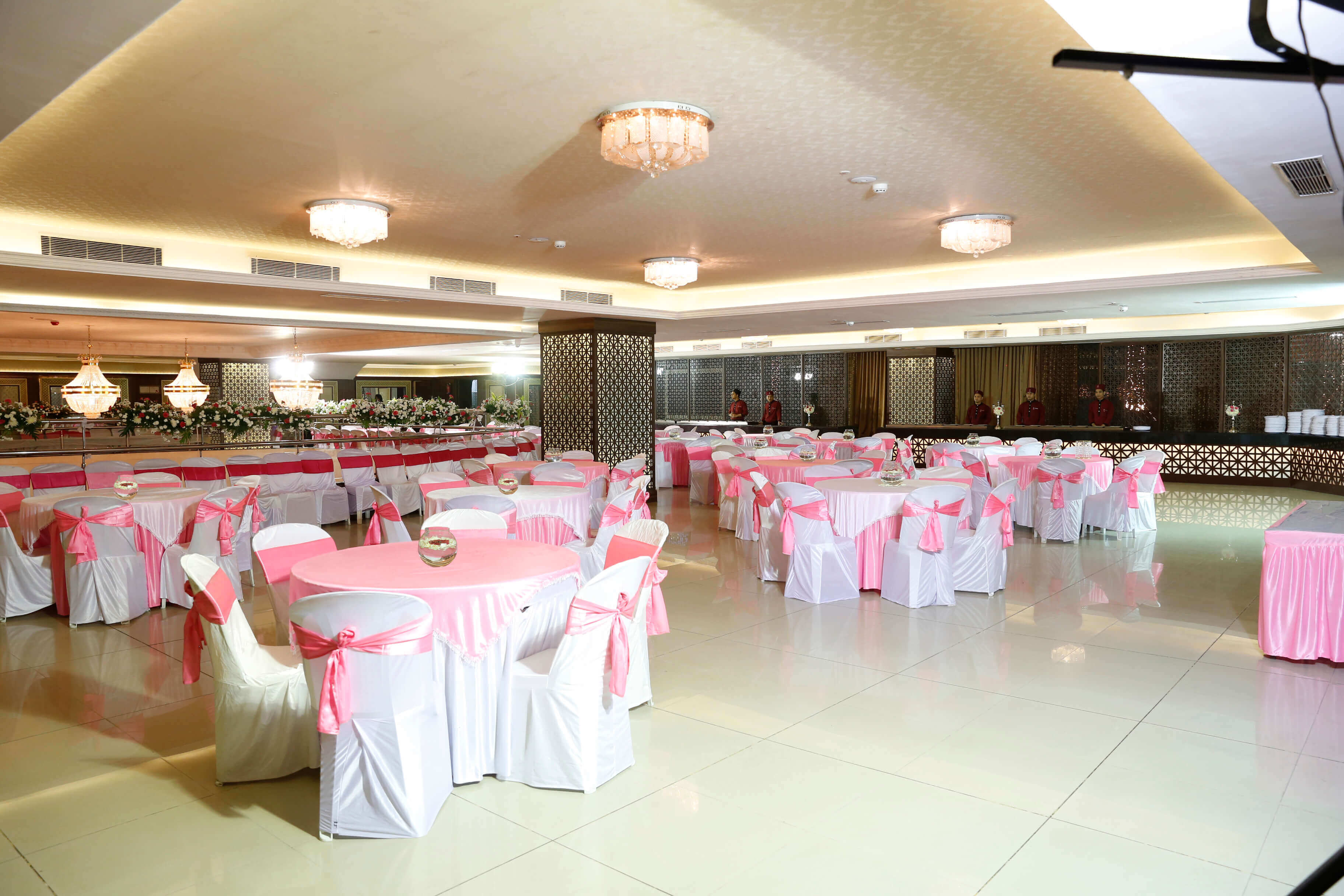 Among other marriage halls in Bangalore, Empire Yolee Grande is a grand hall featuring splendid interiors with floating up to 1000 guests. This wedding hall is spacious and provides you with unbeatable decor team to amp up your wedding. The best thing about this wedding hall is that it provides two complimentary changing rooms for the bride and groom.
This venue is best for weddings and functions aimed at providing A-list services. They have a wide variety of choices to choose from the menu for a special occasion. Although Empire Yolee speaks volumes for its culinary experience, it also allows outside caterers for the lip-smacking cuisine on your big day. They have parking capacity of 25 vehicles, and valet services available on request.
Location: Pottery Road, Richard Town
Capacity: Up to 400
Address: Empire Yolee Grande, No 14, Pottery Road, Richard Town, Opposite Bangalore East Station, Bengaluru, Karnataka 560005
Shravanthi Kalyana Mantapa
Shravanthi Kalyana Mantapa is one of the most stunning wedding halls in Bangalore. This banquet hall provides with an ample space to host wedding functions like an engagement ceremony or reception. The venue also allows you to bring an outside caterer of your choice. This magnificent and well-designed marriage hall is best known for its services, which can accommodate around 1500 guests.
Location: Kanakapur Road
Capacity: Maximum 1500
Address: No.67, Doddakallasandra, Gubbilala Gate, Kanakapura Road, Bangalore – 560062, Next to Indian Oil Petrol Pump, Karnataka. 
Omthara Kala Kuteera, Bangalore
Omthara Kala is one of the grandest wedding halls located on the outskirts of the Garden City. This is a place that is used by people for business as well as personal purposes. I bet there is no better place for your wedding than a place steeped in divinity. The venue has a dining hall that accommodates around 300 guests at a time. 
Organize your dream wedding at Omthara, which includes a verandah, portico, bridal suite, porches, and everything you need to complete your dream wedding. This place is the epitome of a well-orchestrated venue.
Also, check- Low Cost Banquet Halls in Bangalore Promising an Incredible Celebration. 
Location: Mahadevapura
Capacity: Around 300
Address: 42/2 Basavenahalli, Near Mahadevapura, Bengaluru, Karnataka, India. 
Iskon Kalyana Mantapa, Bangalore
Iskon, Bangalore is one of the top marriage halls in Bangalore has two wedding halls which are suitable for conducting every type of wedding ceremonies. This venue provides with services like car parking, guest accommodation, 24 hours power, and water supply, security and housekeeping facilities.  The architecture of the venue is something to admire with its defining architecture. This place has a large gathering with contemporary interiors which will make your wedding dream come true.
The splendid place has a fine architecture with impressive facilities and customer services.
Location: Chord Road
Capacity: Maximum 1000
Address: Hare Krishna Hill, Chord Rd, 1st R Block, ISKCON Bangalore, Bengaluru, Karnataka 560010
Anubhandana Nadaprabhu Kempegowda Convention Center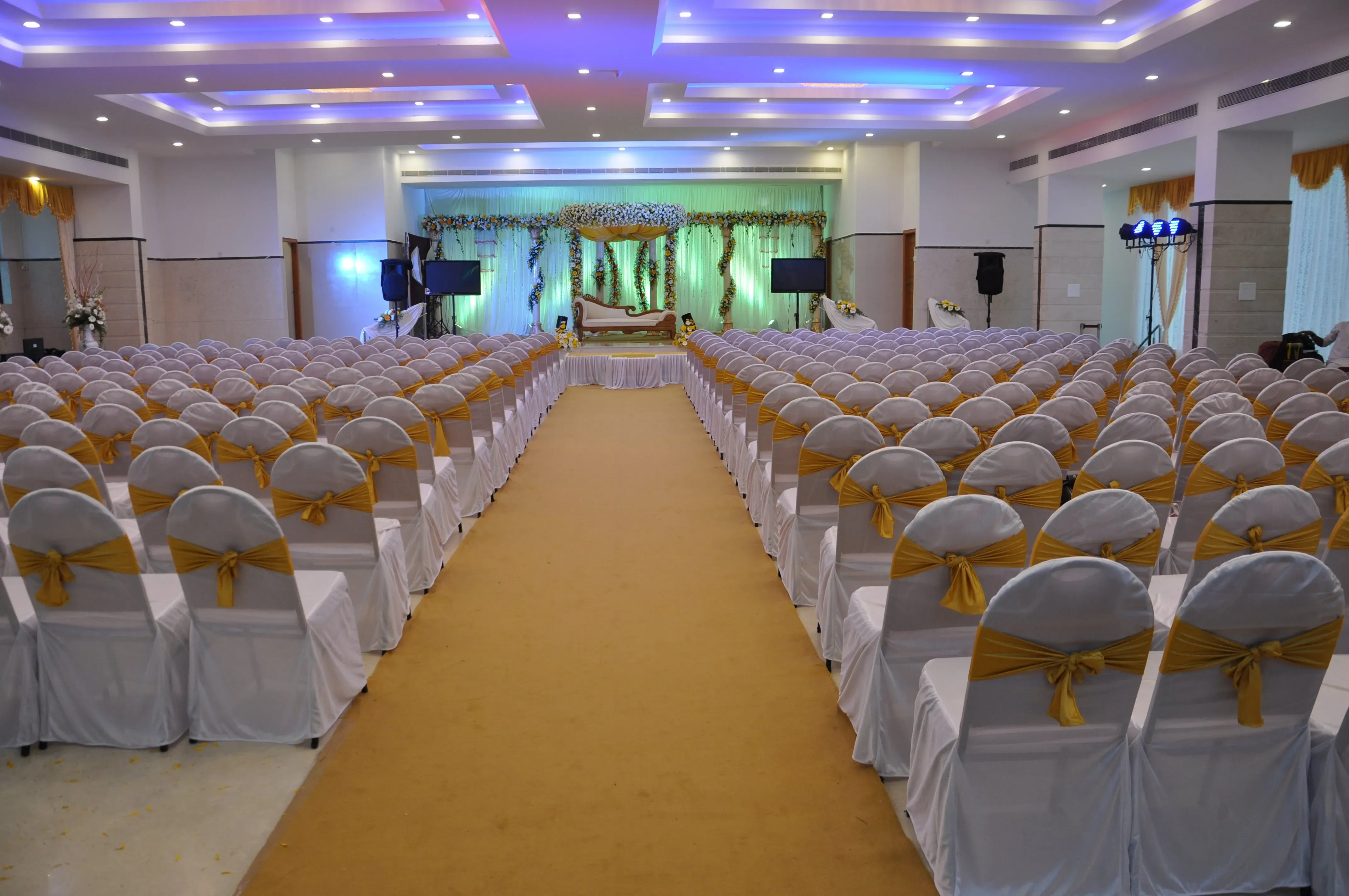 Nadaprabhu Convention Center is located in Vijayanagar is well known for Maruthi Mandir & Adichunchunagiri Temple. Basaveshwar Nagar, Attiguppe, Rajajinagar & Bapuji Nagar are some more spots which can be travelled from the place very quickly. This venue caters to all the wedding functions like mehndi ceremony, private parties, or receptions. The Convention Center is very spacious, which can accommodate from 50 to 1500 guests. This place is the right one if you are planning to invite a large gathering of your family and friends.
Location: Kottigepalya
Capacity: Maximum 1500
Address: No 460/11 Magadi Road, Kottigepalya, Bengaluru, Karnataka 560091
Punam Mahal Convention Hall
Punam Mahal Convention Hall in Kengeri is a top-notch marriage hall in Bangalore. This is a beautiful yet budget-friendly venue to host the wedding. The place also serves mouth-watering food. Therefore, it becomes a perfect place for pure-vegetarians. You can host the wedding functions like sangeet, mehndi or reception at this place. This venue has stunning architecture and is beyond description. The golden crystal chandeliers on the ceiling bring a celestial look to the roofs. White Petals has stunning decor, which makes your big day even more special. 
Location: Subash Nagar
Capacity: Around 5000
Address: 7th Main Rd, Subash Nagar, Kengeri Satellite Town, Bengaluru, Karnataka 560060
Chikkamma Kenge Gowda Convention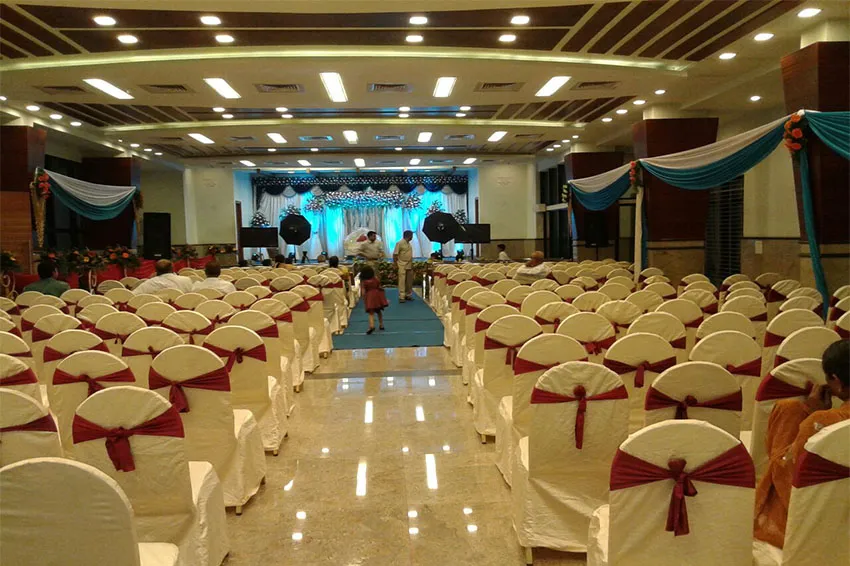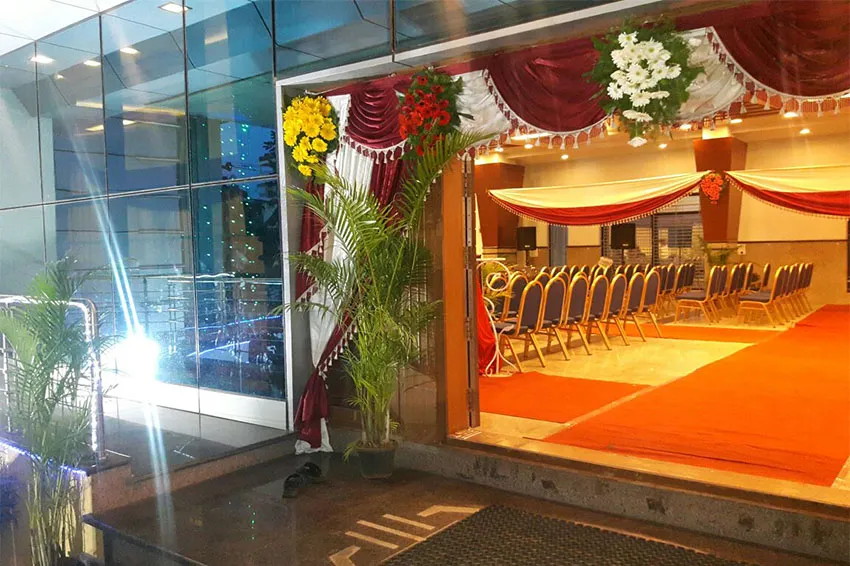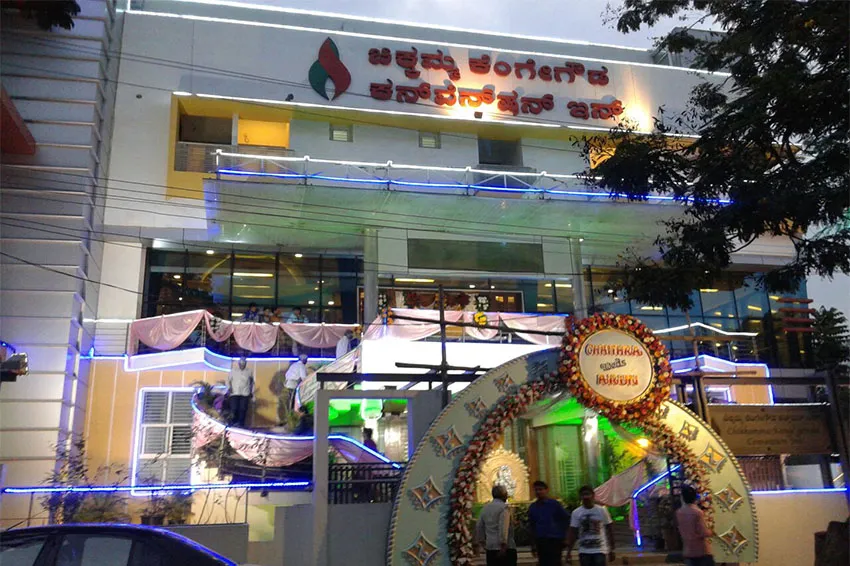 Chikkamma Kenge Gowda Convention, Bangalore, is an awe-inspiring venue to host your wedding functions like Jayamala or elaborated reception. This banquet hall serves the best of delicacies and has a pleasant ambiance. Also, the best thing about this banquet hall is it also provides complimentary changing rooms to the wedding couples and the guests.
So what are you waiting for? Plan your events at the Chikkamma Kenge Gowda Convention, Bangalore to make them fun-filled.
Location: Channasandra
Capacity: Around 1000
Address: 149/150, Uttarahalli Main Road, BEML Layout, Channasandra, RR Nagar, Bengaluru, Karnataka 560098
Devaki Ananda Suvarna Convention Hall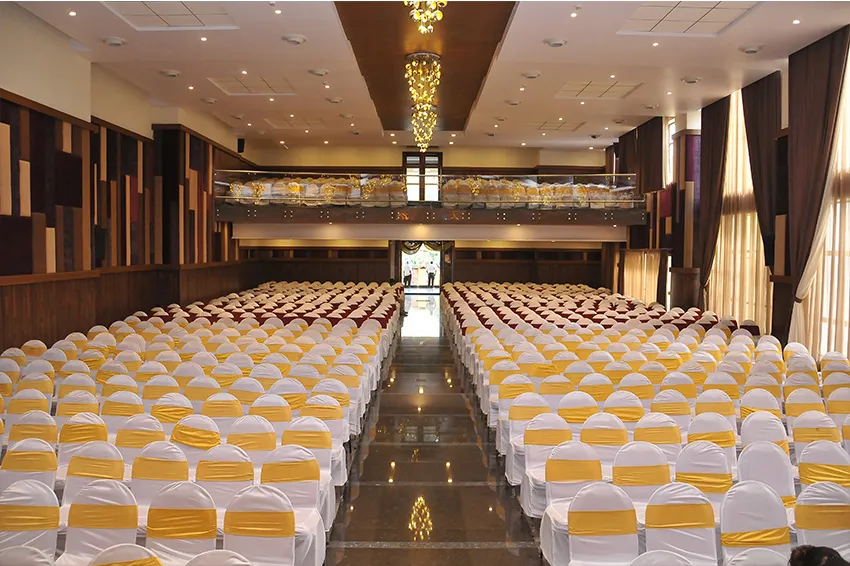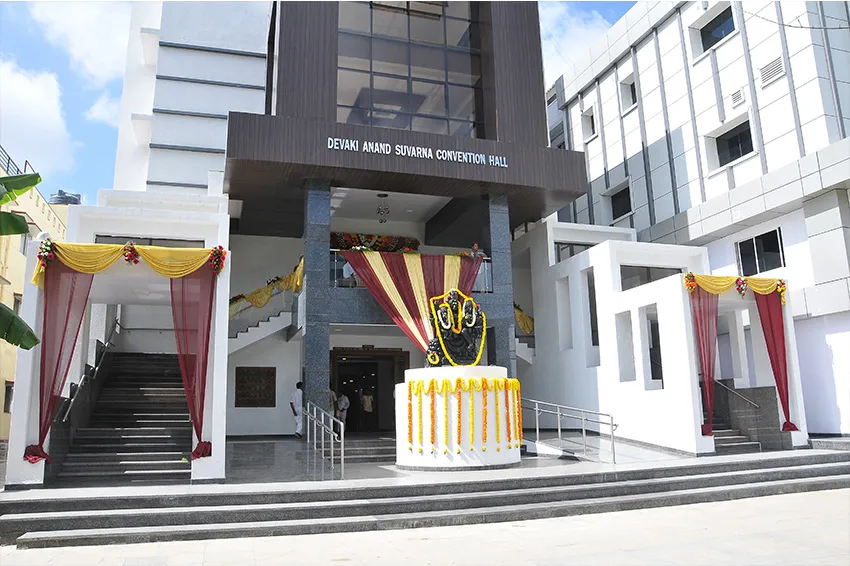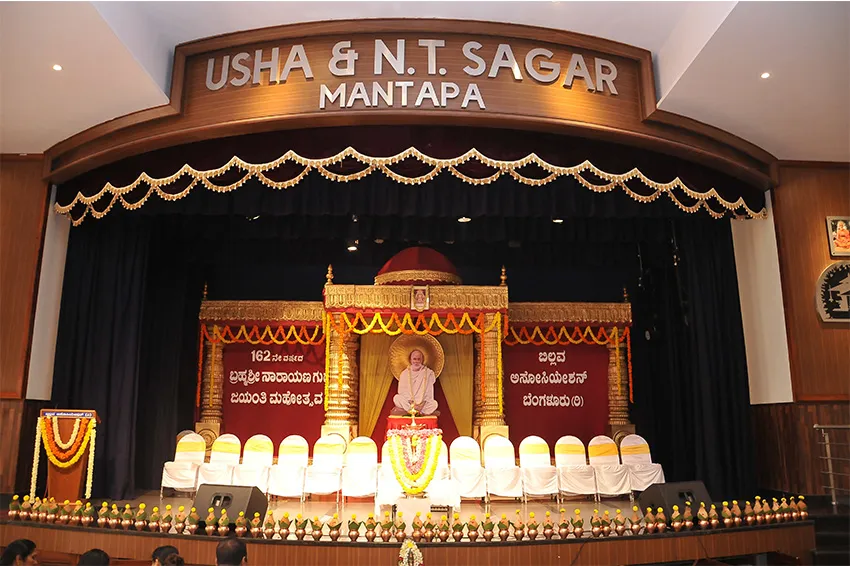 Devika Ananda is one of the most demanded wedding halls in the city. This is a high-class, contemporary, and comprehensive venue perfect for intimate gatherings like mehendi, haldi, weddings or receptions. It has a sprawling space which can accommodate varying capacities of guests.
They provide with high-class services in everything which includes catering, parking, A/C halls and rooms, orchestra, elevator, power backup, wi-fi etc. This venue provides a pure vegetarian food which is very beneficial for vegetarians to opt for this place. It is an impeccable place to host your big day.
Location: Bannerghatta Road
Capacity: Up to 2000
Address: No.63, Bannerghatta Road, Opp. Meenaskhi Temple, Bangalore, Karnataka.
So, these are the top 10 marriage halls in Bangalore that you can consider for your wedding functions. You can filter out the venue depending upon the gathering, locality, facilities, etc.
If you found this helpful, this might also help you- Top 5-Star Banquet Halls In Bangalore For Hosting An Impeccable Event
For detailed inquiries like knowing about marriage halls in Bangalore with cost, you could quickly contact us. We have more comprehensive options for outdoor or indoor wedding venues in Bangalore; therefore, you can contact Bigfday. Our team can also help you by comparing hundreds of venues in Bangalore.