Top Venues For Planning A Perfect Conference In Chennai
If you are looking for a perfect venue for a conference in Chennai, then we present you with multiple choices. In order to make the event successful, you need to have the right balance of certain things like venue, food, and facilities. For this, you might need a little help from us to simplify your tedious task. Therefore, we have brought you some of the top venues for a conference in Chennai. You can choose the venue according to your preference for space and other facilities. 
So, let us begin!
Chennai Convention Centre
Chennai Convention Centre is the perfect convention centre with amazing ambience in Chennai. This is a beautifully decked up convention hall with spacious rooms and large seating facility which is an ideal place for all family gatherings. The architecture of this place is also mind-blowing which will make your occasion more special.  They believe in the actualization of dreams of every bride and groom on their special day.
Address: Chennai Convention Centre (CCC Hall), 
81-82, First Avenue, 
Injambakkam, Chennai 600115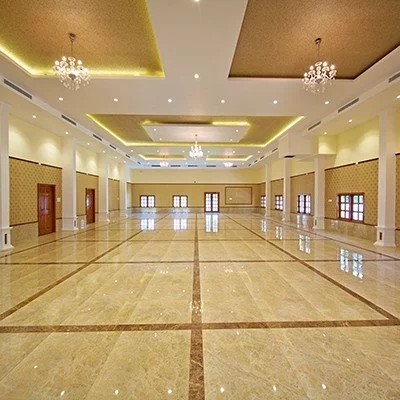 Janapriya Convention Hall
This is one of the classy convention halls in Chennai. It has a beautiful interior with flashy yellow light which is perfect for such occasions. The venue has a seating capacity of around 150 people and floating capacity of 175 people. This venue has spacious and air-conditioned rooms with proper facilities. They provide with both vegetarian and non-vegetarian food and allow caterers from outside if you don't want to opt for their caterers. They also provide with room facility for the guests. Another best thing is that they have a huge parking valet too which makes it easier for the guests to travel for the function.
Address: Opposite to Adyar Bus Terminus, No26, Sardar Patel Road, Adyar, Chennai 600020
The Park is located at Anna Salai in Chennai and it is a part of The Park Hotels, a chain of luxury hotels in India. It is situated at a prime location which makes it easier to be accessible to all your guests. Its banquet hall is the best place to conduct events like the conference.
The Sansara Hall of this hotel can seat up to 180 people and a floating crowd of up to 400 can be comfortably accommodated. Even if you have a small guest list this hall can be partitioned into two separate halls that can seat up to 80 people each. It also has two other halls Chandra and Surya which can accommodate up to 40 guests in theatre-styled seating.
Address: No 601, Anna Salai, Near US Embassy, Gangai Karai Puram, Nungambakkam, Chennai 600006
Hilton in Chennai is located at Ekkaduthangal and it is just a 15-minute drive from Chennai's international airport. The facilities and architecture of this hotel is something to be praised. No wonder, it is one of the most popular 5 stars hotels in India. The Hilton Grand Ballroom is a classy banquet hall that has a seating capacity of 550 people and can host around 1000 people of floating capacity. If you are planning for a classy conference The Hilton Grand is one of the best choices you can make. 
Address: 124 1 J.N. Salai, 1, Inner Ring Rd, Guindy, Chennai 600032
Hyatt Regency in Chennai is located at Teynampet on Anna Salai. This 5-star hotel has a beautiful interior and great ambience which brings in a cosy and warm feeling. It is an easily accessible venue for everyone as it is located at a prime location and it's just a 20-minute drive from Chennai Central Railway Station. The banquet hall at Hyatt Regency boasts around 4670 sq.ft and can seat up to 500 guests and has a floating capacity of around 1200 guests. This place is perfect for a function lie convention marriage.
Did you know the biggest surprise of this place is that if you are having your wedding at Hyatt Regency, Chennai, you can enjoy free honeymoon nights at any Hyatt Hotels & Resorts location worldwide!? Isn't it great!?
Address: 365, Anna Salai, Rostrevor Garden, Teynampet, Chennai 600018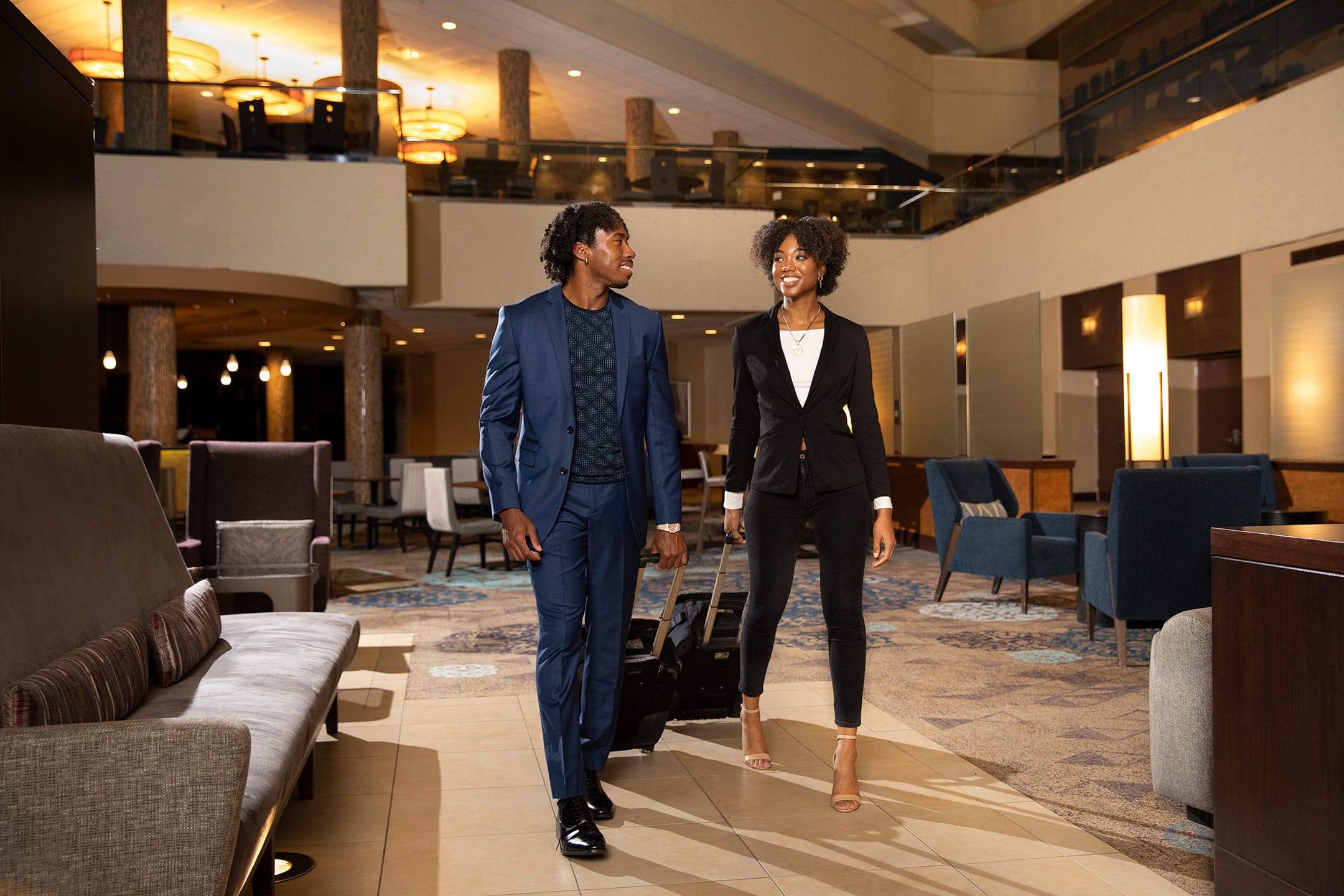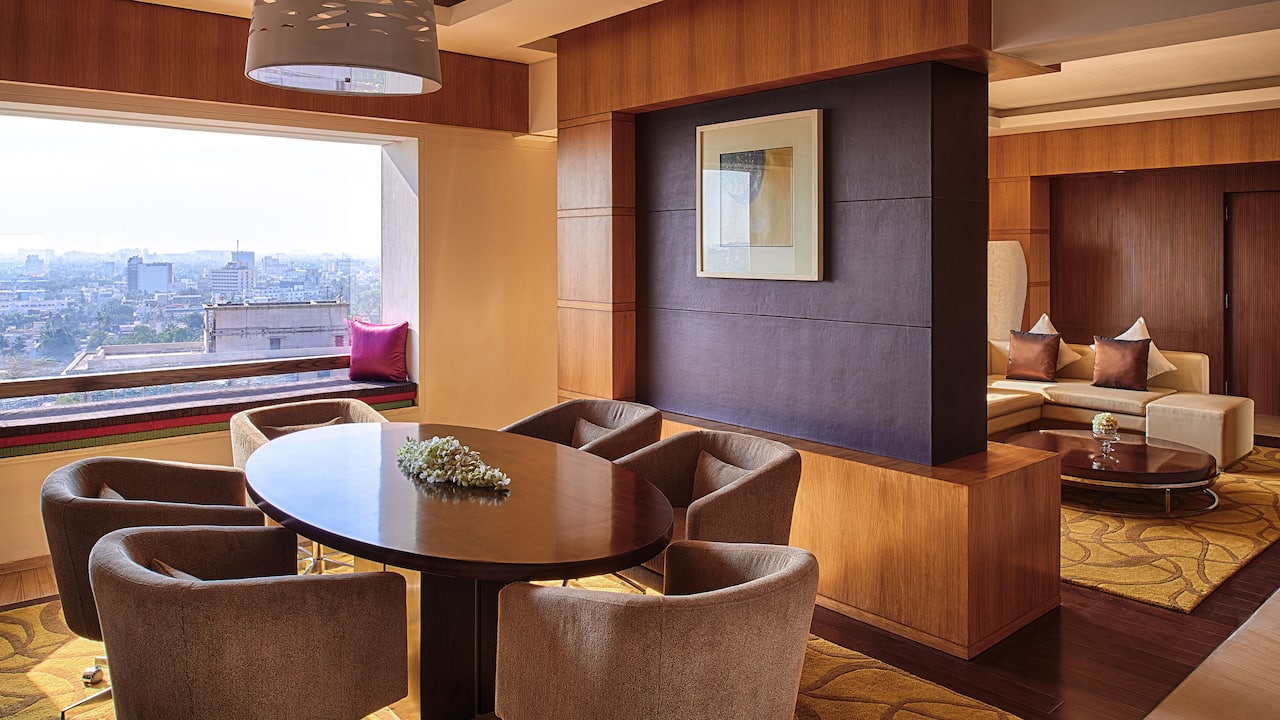 The Leela Palace, Chennai is boasted in over 4.8 acres at M.R.C. Nagar. This place is a perfect example of luxury and value. This majestic 5-star hotel is the only sea-facing hotel within the city limits of Chennai and is one of the most preferred one all over the country. The Grand Ballroom is a gigantic banquet hall at 12,300 sq.ft space that can seat up to 1200 guests. It also has the royal Ballroom if you are planning to invite a smaller number of guests.
Address: Adyar Sea Face, The Leela Palace Road, Sathyadev Ave, MRC Nagar, Chennai 600028
Trident hotel in Chennai is located at just 3 km from the airport and it is only a 10-minute drive from the Chennai Trade Centre. This is also a 5-star hotel and it is one of the most prestigious brands of Chennai. It is a majestic venue which can accommodate up to 400 guests. The venue has a hall named, Alaap which can seat up to 325 people and up to a crowd of 400 guests. It also has a smaller hall Chettinad, which can accommodate up to 50 guests and it is an ideal venue for such family gatherings. This venue is the best choice for events like a conference.
Address: 1, 24, Great Southern Trunk Rd, Kannan Colony, Meenambakkam, Chennai 600027
Another best conference hall in Chennai is Feathers which is a luxurious 5-star property of the Radha group of hotels. It is very easily accessible as it is located at just five minutes from DLF and Chennai Trade Center. This 5-star hotel has 2 huge magnificent halls Carnation and Tulip, which is perfect for a convention marriage. Carnation can seat up to 1000 guests and has a floating capacity of up to 2000 guests can be managed very easily and comfortably.
Address: 4, 129, Mount Poonamalle High Rd, Manapakkam, Chennai, Tamil Nadu 600089
Lemon Tree Hotel at Shimona is one of the best venues for a conference in Chennai and has an awesome banquet hall and boardroom perfect to host a successful event. If you are looking for a convention hall in Chennai this hotel would be a great choice to go with. This hotel is a good choice for people because of its proximity to the Chennai Trade Center and DLF IT Park. The banquet hall, Tangerine offers to accommodate up to 200 people. The best thing this venue is that their boardroom has all the latest technology needed. This place has every facility that might be required for a smooth event. 
Address: 31/3, Mount Poonamalle High Rd, Parthasarathy Nagar, Manapakkam, Chennai 600125
Raj Park is a fancy 4-star hotel in Chennai's Alwarpet area and is a fit choice for a conference in Chennai. This venue has 5 banquet halls and 2 conference halls which provides which a large choice for the host. The biggest one is the Vantage Hall with a size of  2500 sq. feet and can accommodate up to 700 guests. This venue will definitely impress your guests with its refreshing interiors, prompt service, and delicious menu.
Address: 180, TT Krishnamachari Rd, Parthasarathy Puram, Alwarpet, Chennai 600018
Ambassador Pallava is a swanky 4-star hotel in Egmore that has a range of banquet halls which vary from 50 to 600 guests accommodation. Dynasty is the largest roo, which provides spacious and air-conditioned space which is perfect for a conference or presentation. Another striking feature is the fact that this hall opens up to an additional open space by the pool which can cater about 100 guests. Needless to say, this open space provides a dream canvas for arranging glittery party decor. Likewise, The Regency hall is perfect for conferences or small get-togethers. This venue features everything that you may need from an energetic team to modern infrastructure to run an event smoothly.
Address: Montieth Road, 30, Egmore, Chennai, Tamil Nadu 600008
Hope you find our list of top venues for the conference in Chennai handy and helpful. We would love to hear from you on your views, experiences or simply any additions that this list may need. Do write to us or leave your comments below!!!
Also, check out: 10 Mind-Blowing Benefits Of A Banquet Hall
No matter if you already have fancy plans or are just not sure where to start, BigFday can help you to discover the right banquet hall and host an outstanding event. Enquire with us about suitable venues with exclusive packages and event planning services. And the best part? It is not only a simple approach but also a free one too!!!