Ultimate List Of All Unique Wedding Venues In Chennai
Weddings are something that will always be a memorable one even if you look back after years. Everyone wants their wedding to be the best one they have ever seen! Every couple has that dream of having a unique wedding, exclusive for themselves. One of the most crucial things to decide on the first place for a wedding is the marriage hall. A lot of thinking is put into choosing the wedding hall. So, to make your wedding more exclusive, here is the list of all the unique wedding venues in Chennai which will make you awestruck the moment you see it!
Also, read : List Of The Finest Marriage Halls In Poonamallee
SPP gardens
SPP Gardens is one of the best destinations in Chennai to host any event, say wedding, birthday party, rituals or corporate events in the most extravagant way possible! The venue is located near Maduravayol EB office. It is divided into six thoughtfully landscaped lawns each with its character and charm; you can choose the perfect space to entertain your guests. It can accommodate an overwhelming maximum, number of 3000 guests at once. SPP Gardens gives you a unique opportunity to enjoy all gifts of nature.
Being only outdoor venue type, it makes SPP Gardens more unique, giving a posh vibe. There is a per plate system, inclusive of both rental and catering. The venue will also refer to vendors for decoration, other than that one can bring vendor of their, own choice. It also has an ample car parking space for around 500 cars at once.
Address: 51, OLD NO. 55, Mettukuppam Rd Kandan Nagar, Maduravoyal, Chennai.
Rina's Venue
Rina's Venue, a traditional Chettinad house on a sylvan green lawn located in the heart of the East Coast Road, is definitely one of the prettiest locations in town for weddings. Keeping the aesthetic of a traditional home for a wedding venue makes this a really unique option out of all! Be it a cozy cocktail evening for your nearest and dearest or a grand reception for over a thousand guests, Rina's venue is your answer. This 6000 sq feet of finely built and showcased property would leave one awestruck. Be it the magnificent entrance with detailed woodwork or the inner courtyard flanked by majestic wooden; this is a dream place to exchange your vows. It is a replica of a traditional south Indian house situated away from the noise and craziness of the city.
Excellent hospitality services will make you relax and enjoy your special day. From flower decorations to overwhelmingly beautiful rangolis, the venue will be at its best even with minimal decorations. The venue has sprawling gardens surrounding the house and a small pond. It also has large bedrooms equipped with all modern facilities for the guests to have a comfortable stay. There are ample parking space and the arrangements by their team is definitely going to make your experience a memorable one.
Address: Rina's Venue, Near ISKON Temple, Magaleshmi Street, Injambakkam, Chennai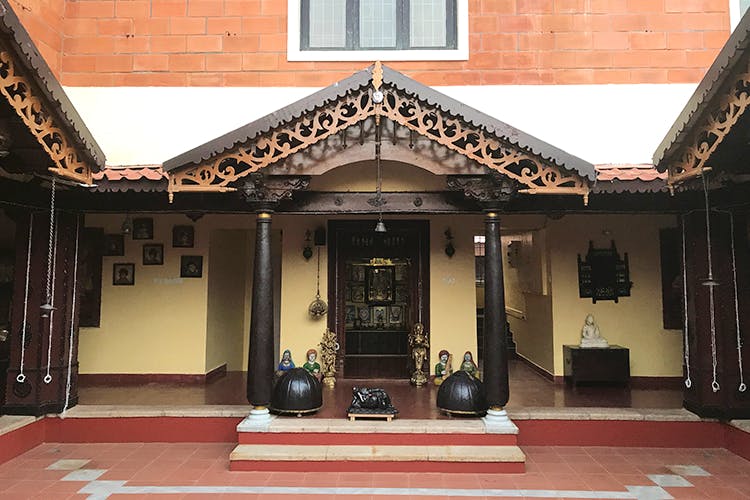 Dakshinachitra
Dakshinachitra Chennai museum is one of a kind experience you ought to experience to feel the true essence of India in all its cultural heritage and glory. Never before would you have seen all the states architecture, practices and tradition. Unique is an understatement to what you see here. It is located on the ECR road next to MGM Dizzee world. A Dakshinachitra wedding is most sought after with many people conducting their unique weddings in this exclusive model village in ECR.
It is a once in a lifetime experience for the bride, groom, family and guests. It is a mini-village inside, which provides an ambience of a village and creates the feeling of being inside a real village. With its dated houses and entire area covered in trees provides the much-needed relief from the hustle and bustle of the city. Your Dakshinachitra wedding will definitely be a unique experience with the wedding inside a real village home creating memorable feelings inside the minds of one and all.
Address: SH 49, Muttukadu, Tamil Nadu 603118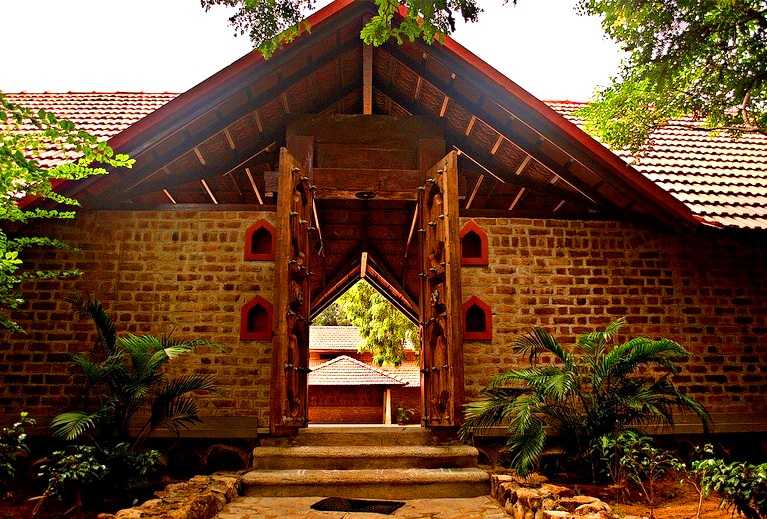 Hanu Residences
Hanu Reddy Residences, Poes Garden has a banquet hall located in the heart of Chennai. If you are looking for a venue which is well-equipped, then Hanu Reddy Residences is a perfect choice. It is a one-stop destination which offers a lot of services and facilities so that you can have fun your wedding. Updated with all modern comforts, they aim to provide you with a memorable experience.
With a total capacity to accommodate around 50 to 500 guests at a time, It is a spacious venue which has a lot of decor options and settings.  The venue offers a wide range of facilities including valet parking, 24/7 power with backup etc. for your convenient experience.
Address: Hanu Reddy Residences, 41/19, Poes Garden, Teynampet, Chennai, Tamil Nadu 600086
Waterfront lawn at MGM
Lake lawn at MGM is an outdoor multi-purpose banquet located in Chennai is one of the most unique venues suitable for weddings, private parties and get-togethers. MGM offer ample function and pre-function space with fully-serviced lawns, under a canopy of stars. MGM experienced team will be happy to assist you with menu planning, banqueting services, seating arrangements, entertainment, decor and all other amenities. The Resort will be delighted to assist in ground arrangements required, to ensure a memorable wedding day. There is nothing more romantic than a beachfront wedding. Swaying palms, Sapphire waters of the sea, serenading surf and the sultry breeze create a magical. Yet the perfect ambience as you celebrate the most important day in your life.
Address: MGM Beach Resorts, MGM Beach Resorts1/74, E Coast Rd, Muttukadu, Chennai, Tamil Nadu 603112
Amphitheatre At Gem Inn Resort
Gem Inn Resort is another unique venue located in the IT highway, O.M.R. Rajiv Gandhi Salai, Navalur, 20 km from Airport. It has two different banquet halls, both very diverse, the Amphitheatre and the other, Navaratna Hall. The latter is a small banquet hall suitable for small corporate meetings while the Amphitheatre is a gigantic, lush Green Lawn with a built-up auditorium for Outbound training sessions, Marriage reception, Birthday parties, Get-Together and so on. It can accommodate 1000 to 1500 people.
Being one of the best wedding venues in Chennai, The venue provides world-class facilities and extravagant and rich decor offered from the Gem group of hotels and restaurants. You can peacefully relax amidst the lush green flora and fauna of the picturesque resort enthralled by the striking beauty of the opulent surroundings. Gem Inn Resort, is a blend of elegance, provide unmatched comfort and positioned to an iconic 3-star Corporate Resort in Chennai making it a good choice to celebrate your big day!
Address: A1, B1, Rajiv Gandhi Salai, OMR, (Old Mahabalipuram Road), Navalur, Chennai.
Luz House
Ever thought of getting married in an iconic and historic building in Chennai? Well, now you can! Get married in this historic 250-year-old venue located at the heart of the city. Luz house, a gorgeous destination to host intimate weddings, corporate engagements, theme-based birthday parties, and anniversaries, film and photo shoots, plus more. Located near Vidya Mandir Senior Secondary School, the venue promises an easier trip for your invitees. This beautiful venue can accommodate thousands of invitees at a time very swimmingly. The decor team at Luz House, Chennai, takes care of the decoration allowing you to sit back and enjoy your event. Luz House has a cosy ambience which makes everyone feel welcomed. The staff here makes sure that all the events are executed smoothly and that your guests have a time worth remembering.
Address: 176, Luz Church Rd, Luz, Mylapore, Chennai, Tamil Nadu 600004
Hosting an impeccable and marvellous wedding in a unique way is the main goal for all these venues! We hope that this list of the unique wedding venues in Chennai helped you in your search for the same. We, at BigFday, strive to ease your burden by doing the job of planning the event from the start till the end. Hosting a flawless event over and over is our consistent aim!